Managed service
Our managed service is what we consider a priority to ensure our clients experience optimum performance levels for their critical IT systems and business applications whilst at the same time helping to reduce costs. Effectively managing IT systems is becoming increasingly challenging. We provide customers with 24×7 Monitoring, Incident Management and Full management to ensure critical IT systems and business applications run smoothly.
Please contact our sale team to find your best solution.

˂ Concept of TELEHOUSE managed service ˃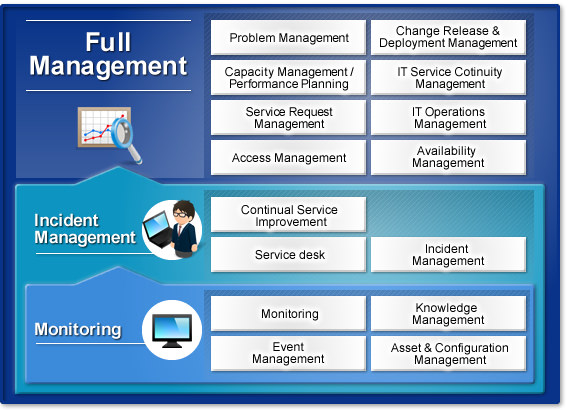 Benefit
One stop service

Our customers have a benefit of on-site professional support for a wide range of IT issues.

Upgrading management efficiency

The burden of IT department will be eased. Management resource can focus on more mission critical operations.

Reducing risks for IT system failure

24 by 7 operation helps to achieve system recovery time reduction. Operation and monitoring process combination can reduce the risk of system failure.
*TCO(total cost of ownership) reduction
Compared with self-management situation, the cost of operation management for NW and system decreases.
Technical Support
Telehouse offers an unlimited, 24X7 Technical support to all our co-location customers. The following are included in our standard service.
Checking of alarms on equipment
Re-booting and switching on/off of customer's Equipments
Our Help Desk operates for all users who may require attention on a 24x7 basis. Our Service Desk Assistants and Shift Engineers provide a broad base of communications skills and expertise to deal with your request. All calls are logged with a Trouble Ticket which tracks your call to conclusion.