System Integration
TELEHOUSE is a global system integration expert offering high quality telecom and technology services.
If you have any further IT requirements or need any IT support, TELEHOUSE can assist in the supply, development and support of your systems located in and out of our datacenter. Based on your precise business needs, TELEHOUSE can provide you with professional advice on your network and system integration requirements, working with you to achieve the right IT solution.
We have our own offices all over the world, if you would like to discuss your IT requirements with TELEHOUSE. Please feel free to contact us.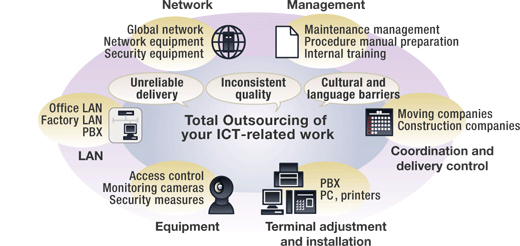 Provided solution
Building ICT environment


Procurement and setting of servers in racks
One stop handling from construction of office IT environment to equipment setting
Project management of complete process
Uniform management of operations in multiple offices and countries



Operation/maintenance


Monitoring of rack and fault detection/measures for fault
Managed service of LAN/WAN equipment
Operation and maintenance together with local carriers



Security measures


Installation of security equipment
Security monitoring in real time
Security check/evaluation