South Africa Data Centers

Why locate your Data Center in South Africa?
South Africa is the economic powerhouse of the African continent, comprising 25% of the entire GDP of the continent and can be seen as one of the most sophisticated and promising emerging markets globally. It is the continent's leading telecoms, IT and digital media market with several international leading IT corporations operating subsidiaries in the commercial centers of Cape Town and Johannesburg, which is the leading financial center of Africa. Its telecom sector boasts the continent's most advanced networks in terms of technology deployed and services provided making South Africa t the most developed market for data centers and cloud computing on the continent. The data center development is being assisted by the introduction of new submarine cable systems into the region.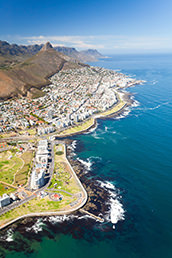 Over 60% of internet traffic on the African continent originates from South Africa.
The South African ICT sector is the largest on the African continent and the 20th biggest in the world.
South Africa t has a network that is 99% digital and includes the latest in fixed-line, wireless and satellite communications, making it the most developed telecommunications network on the continent.
South Africa's IT industry is characterised by technology leadership, particularly in the field of electronic banking services.
Telehouse South Africa Data Centers
In 2010, TELEHOUSE set up its first South Africa data centers center in Cape Town and Johannesburg through a partnership with Teraco, South Africa's first vendor neutral data center provider. Since then, the TELEHOUSE South Africa data centers have attracted a growing number of international carriers, cloud, content providers and enterprise customers that benefit from TELEHOUSE' reliable IT infrastructure and global network connections. As carrier neutral facilities, the TELEHOUSE South Africa data centers provide connectivity to major national and international carriers.